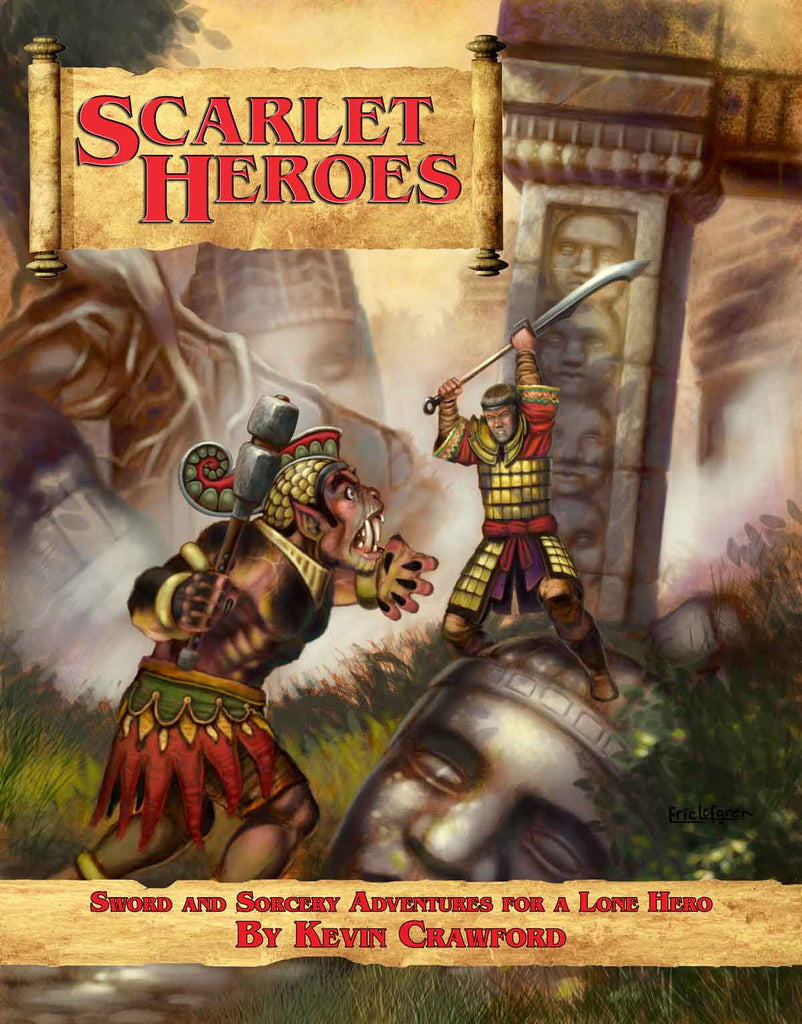 ---
The crimson mist churns a hundred miles from shore, red with the blood of a butchered world. Here in the Sunset Isles the last fragments of humanity struggle to withstand the fury of the native Shou and the corruption within their own divided ranks. Hard-eyed men and women brood in the waterfront dives and shabby tea houses, selling their swords for a few bright coins or the promise of a dead man's treasures. In the wilderness, the lost cities of vanished empires and fallen races lie deep within the jungle shroud, and the desperate efforts of colonists and refugees strain to contain the horrors that threaten on every side.
It is a time for legends. It is a time for fearless warriors and eldritch adepts to rise from this hard-pressed people and defend them from the nightmare that threatens to engulf them all. The wealth of ages awaits those steely souls with the courage to cast down the guardians and break the vaults of the festering dead. A new world struggles to be born from the red ruin of the old. It is in need of scarlet heroes.
Scarlet Heroes is an old-school tabletop role-playing game designed to provide classic sword and sorcery gaming for one player and one gamemaster. Unlike most other RPGs, Scarlet Heroes is built to support one-on-one play, with no need for a full-fledged party of adventurers to provide an evening's entertainment. Whether for a spouse, kid, curious friend, or just as an alternative to boardgames for those nights when only one or two friends can make it to the gaming session, Scarlet Heroes gives you the tools for good old-fashioned skull-cracking adventure.
Scarlet Heroes can be used both as a stand-alone RPG and as an overlay over your favorite old-school game to make its adventures playable for single PCs or very small groups. It shares the same classic statistics and basic game mechanisms as these old-school favorites, but by changing the interpretation of these numbers it makes it possible for a single courageous adventurer to dare perils that would otherwise threaten a half-dozen freebooters. With Scarlet Heroes, a GM can pull out a favorite classic module, grab a convenient friend, and a have a full night's adventure with no tweaking, alteration, or adjustment of the material needed.
Inside the pages of this book, you'll find...
A full stand-alone RPG system that can also be used as an overlay atop most popular old-school games.
The Red Tide campaign setting as a default for the game, with a full bestiary of Southeast Asian-inspired monsters, suitable new magic items, and a full list of new cleric and magic-user spells for that setting.
Sixty new adventure tags of the sort beloved in Stars Without Number and the Red Tide Campaign Setting sourcebook. Mix and match to fashion your own perilous circumstance.
Solo adventure tools for genuine single-player RPG gaming. Mix your own creativity with table results to create a narrative for your own hero's adventure... or use them as inspiration in crafting something for a group.
Five crisp new maps by Dyson Logos, unkeyed and ready to be filled by your own creativity.
More than a thousand backers supported the Kickstarter campaign that funded the creation of Scarlet Heroes and now the book is available to the wider world. Seize this world of red adventure and be armed against the coming night!
This purchase provides the game in a zip file containing the DRM-free PDF, EPUB, and MOBI versions of the title.
---
Share this Product
---
More from this collection