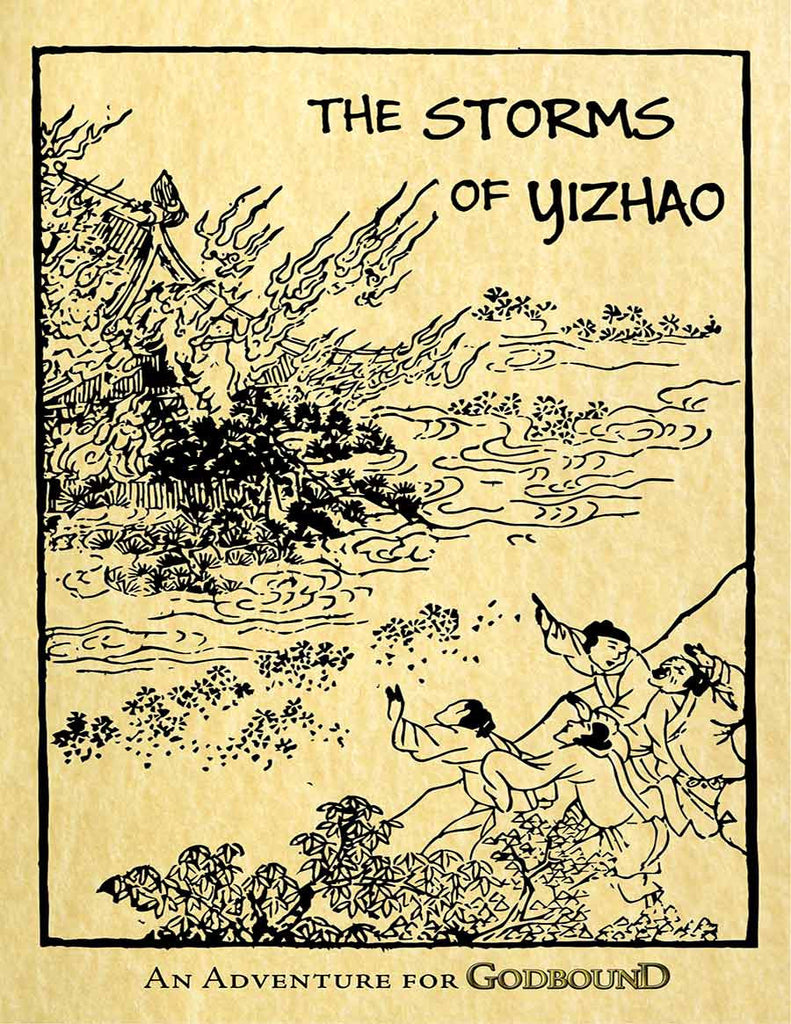 The Storms of Yizhao: An Adventure for Godbound
---
Heaven's fury lashes the city of Yizhao. Its governor is helpless to discover the crime that has so enraged the celestial Pattern. The grandees of the city maneuver against each other and plot their own purposes in the face of the city's woe, suspicion and avarice driving their private schemes.The city's very existence is at stake as an ancient law and a present wickedness clash in the skies above. Can the pantheon avenge this hidden evil without bringing ruin upon the innocent?
The Storms of Yizhao is an adventure for the Godbound role-playing game, designed to provide several evenings of play for a pantheon of novice divinities. The adventure focuses around the grand figures of the city and their contradictory purposes, presenting the GM with a fully-formed court of officials, sages, soldiers, and merchants. Each has their own goals and resources and each offers help in discovering the crime that has so infuriated the unthinking magical power that protects the city. But once the truth comes out, will the heroes be satisfied with the cold law of the Pattern, or will they dare to defy Heaven and forge a different justice?
Within these 74 pages, you'll find...
A description of the Dulimbaian provincial capital of Yizhao
Information on the Pattern, the ancient moral teaching of the True King
Details on Dulimbaian ancestor-worship and their dutiful ancestor priests
Six notable grandees, fit for use here or for stealing for your own game
Tools and guidelines on handling a complex situation of political intrigue
Advice on relocating the adventure to your own home campaign
An entirely new Word of Freedom, suitable for Godbound PCs
So seize this shard of celestial adventure now! The generous souls who scoop this morsel up will get not only the PDF file of the adventure, but also bundled mobi and epub formats as a free bonus!
---
Share this Product
---
More from this collection