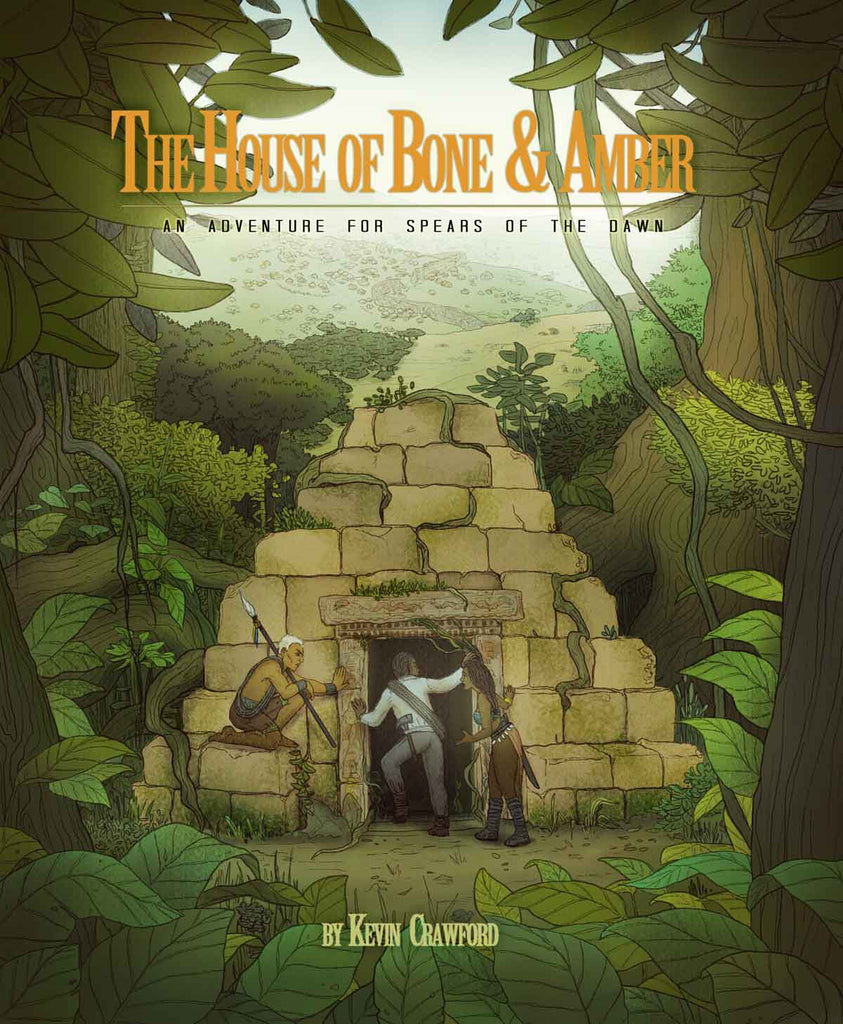 The House of Bone and Amber
---
The Streets of Paraku Groan....
A furious priest shouts curses from the Shrine of the Seven Red Miracles, and the merchants mutter of thieving Nebeti and their damnable ways. The Nebeti elder lies dead by the amber pits, and the Oba struggles to contain the anger of his people. Old grudges are rising, old hates are waxing strong, and the good people of Paraku fear that the streets will soon run red. Who will help them break the grip of the vengeance that even now rises with fire and spear?

In this thrilling adventure for Spears of the Dawn and other old-school games, characters of levels 1-3 face the fury of a divided city and the scars of a history that now threatens the people of Paraku.

The House of Bone and Amber gives the details of the jungle city of Paraku and its stern people. Within you will find a fully-developed city for your game, along with the hidden temples, dungeons, and blasphemous libraries of the fallen House itself. Thrill to the grim tale of the green stone bowl and the doom it threatens upon the bitter city and discover for yourself the awful fate that awaits its people. Heroes are needed in this burdened land, brave souls to strengthen the hands of the good citizens of Paraku and break the knives of those who would welcome a dawn of smoke and blood.
While The House of Bone and Amber is designed for level 1-3 characters created with Spears of the Dawn, a conversion guide provides for a quick and easy transposition of the module into your own favorite old-school rule system. Along with that convenience, the module has been designed to be easily sliced apart into urban details, local NPCs, and long-buried levels of the House itself for you to recycle and repurpose for you own game worlds. Even after your mighty heroes have faced the grim green doom of the city, you can easily strip out the levels and city portions they never touched to help compose their next thrilling tale!
This purchase provides the title as a DRM-free PDF file.
---
Share this Product
---
More from this collection