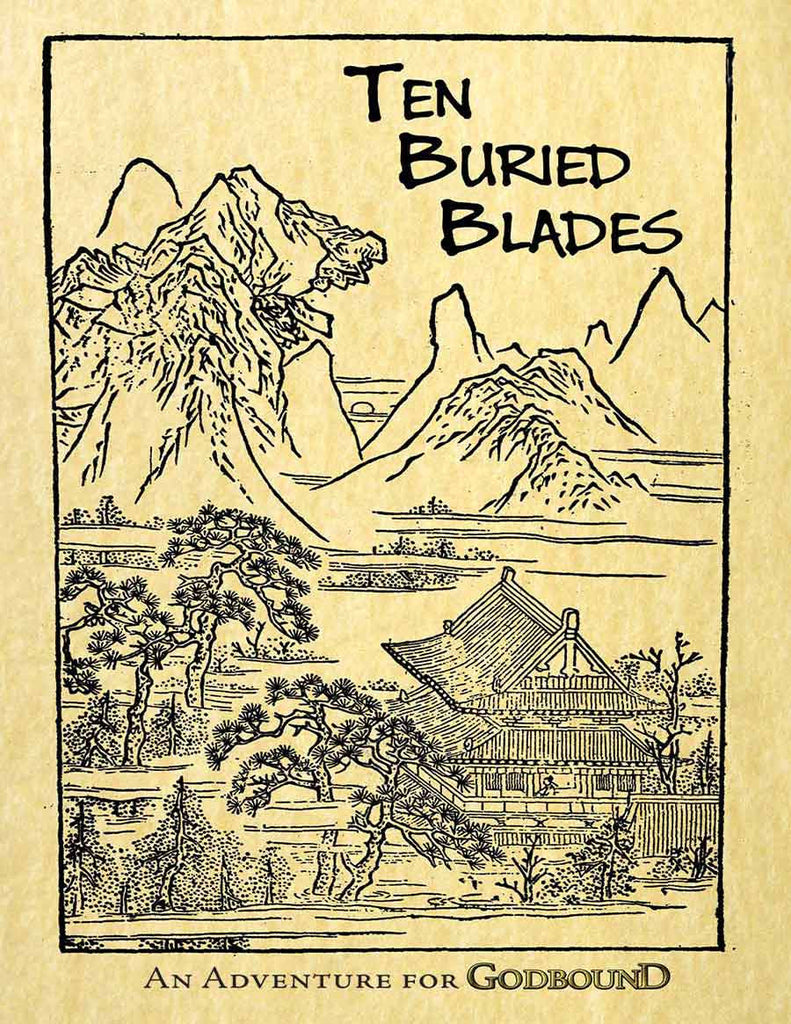 Ten Buried Blades: An Adventure for Godbound
---
In the market town of Gongfang a restless magistrate oppresses the people, forcing them to surrender sons and daughters to serve a mysterious sorcerer on Red Crow Mountain. In the countryside, a wealthy rice broker torments the common folk with his extortionate exactions, driving the desperate into the forest to escape his thugs and bandits. And beneath those green boughs there are whispers of an illicit god, of a Golden Lord who will bring justice to the afflicted. Gongfang's fragile peace cannot last. But who will strike the blow that ends it, and who will pick up the fragments that remain?
Ten Buried Blades is an introductory adventure for the Godbound role-playing game of heroic demigods, available in both a Free Version and a Deluxe Edition. The misfortune-plagued border town of Gongfang is presented for the heroes' attention, with a fistful of calamities and sinister figures for the PCs to encounter. As an introductory adventure, Ten Buried Blades is written to help the novice Godbound GM and is structured to answer many of the questions that come up when you're hurling a pantheon of young divinities against an uncaring world.
Within these pages, you'll find….
Challenges and encounters built to match a pantheon of newly-created Godbound. Some can be overcome by divine force, while others compel the PCs to deal with situations that don't yield so easily to a bolt of celestial fury.
Notes on the Dulimbaian border town of Gongfang, the sinister monastery on Red Crow Mountain, the country estate of Big Feet Zu, and the hidden temple of the Golden Lord
Tips and examples for using divine Influence to change the situation in Gongfang
Information on what the Dulimbaian government might do when a pantheon of demigods shows up in a border town
Conversion notes for moving the adventure to a different location in your campaign
A brand-new True Strife, the fearsome Strife of Torment Defied for the damage-sponge titans of your group
Several new Dulimbaian theurgic invocations
A new low magic path, the Way of Pure Petitions for the austere adepts of Dulimbaian magic who bring luck and banish evil spirits with their sacred writings.
You get Ten Buried Blades in a DRM-free PDF+epub+mobi zip bundle.
So get it now! Your budding heroes need a trial to match their mettle, and the dark forces in Gongfang await!
---
Share this Product
---
More from this collection