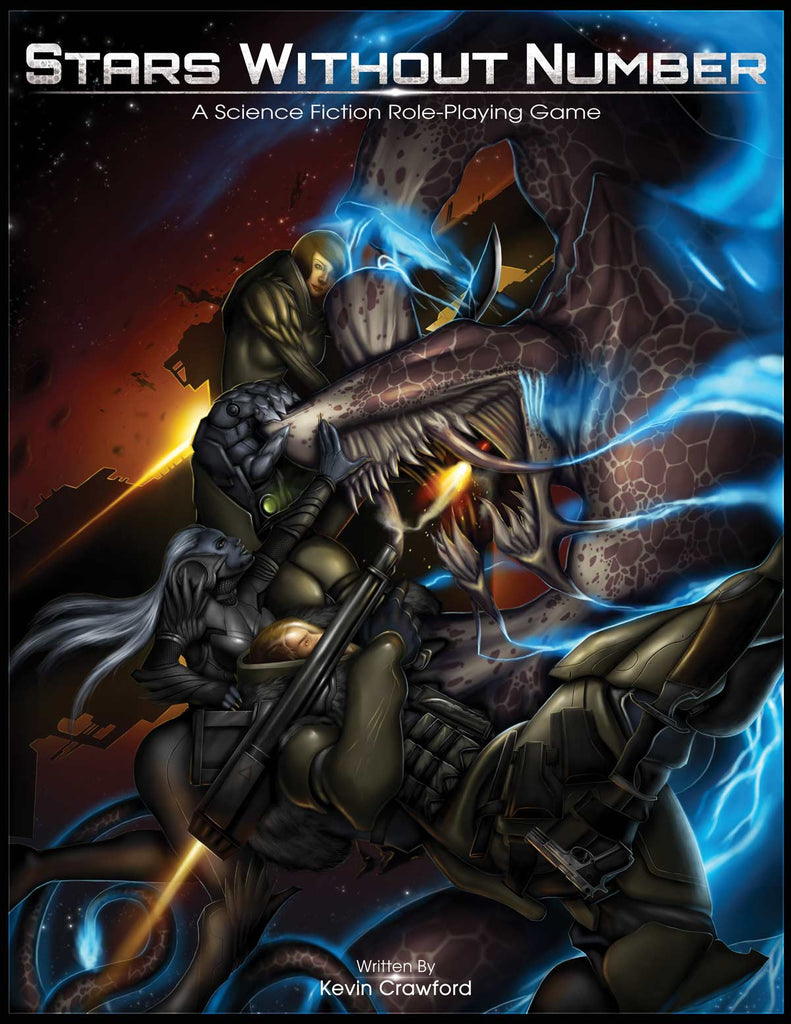 Stars Without Number Core: Original Edition
---
(Note that there is a Revised edition of this game available here, one compatible with all existing Stars Without Number supplements and materials and including most of the material provided below. If you want the latest version of Stars Without Number, you'll want to get that edition instead.)
The year is 3200 and mankind's empire lies inashes.
The Jump Gates fell six hundred years ago, severing the links between the myriad worlds of the human diaspora.
Now, the long isolation of the Silence falls away as men and women return to the skies above their scattered worlds.
Will you be among them?
Stars Without Number is a retro science fiction role playing game influenced by the Old School Renaissance and partially inspired by the great fantasy role-playing game editions written by Tom Moldvay and Frank Mentzer. The contents are compatible with most old school clones and are designed to be easily imported to your own favorite gaming system. In addition to a complete pre-made stellar sector, Stars Without Number offers GMs and players the tools to create their own sandbox-style adventures in the far future.
Classic mechanics adapted for science-fiction adventure in the far future
Extensive GM support for building adventure-crammed sandbox settings more quickly and easily
World building resources for creating system-neutral planets and star sectors
100 adventure seeds and guidelines for integrating them with the worlds you've made
Old-school compatible rules for guns, cyberware, starships, and psionics
Domain rules for experienced characters who want to set up their own colony, psychic academy, mercenary band, or other institution
Also included in this Core Edition version of the game are dozens of pages of bonus material, including...
Rules and historical information on AIs and robots, including AI player characters. Assemble your artificial heroes with a point-buy character creation system and an array of armature hulls for them to use. Included information covers non-sentient guard bots and expert systems as well!
Rules and the historical context for mechs ranging from almost human-sized powered suits to hulking heavy assault mechs to the enigmatic psychic war machines that were the ancient psimechs. Strap in for those special occasions that call for the really big guns. Nine sample mechs are included, along with a design system for creating your own.
Society creation guidelines and generation tables to help GMs flesh out their worlds with vibrant, living cultures and their ages-old conflicts. Every culture comes with built-in struggles to fuel adventures on that world and give GMs a quick and easy hook for pulling in the players.
While Stars Without Number can be fitted to a wide range of settings, the backdrop provided is a vast canvas of scattered stars awaiting exploration by intrepid spacefarers and bold explorers. Tramp starships flit from world to world, trading the treasures of distant suns as reckless wanderers find adventure beneath alien stars. Elite mercenary bands launch surgical strikes from orbit, grav-tank dropcraft crashing down on the heads of native kings while guerilla fighters plot to draw knives in the dark of two moons. Alien eyes watch human interlopers from the acidic mists of forbidden worlds, their shining, poisonous relics plundered by daring hands. All the classic elements of sci-fi adventure have room to shine in Stars Without Number. Come make them your own!
This purchase provides the title as a DRM-free PDF file.
---
Share this Product
---
More from this collection