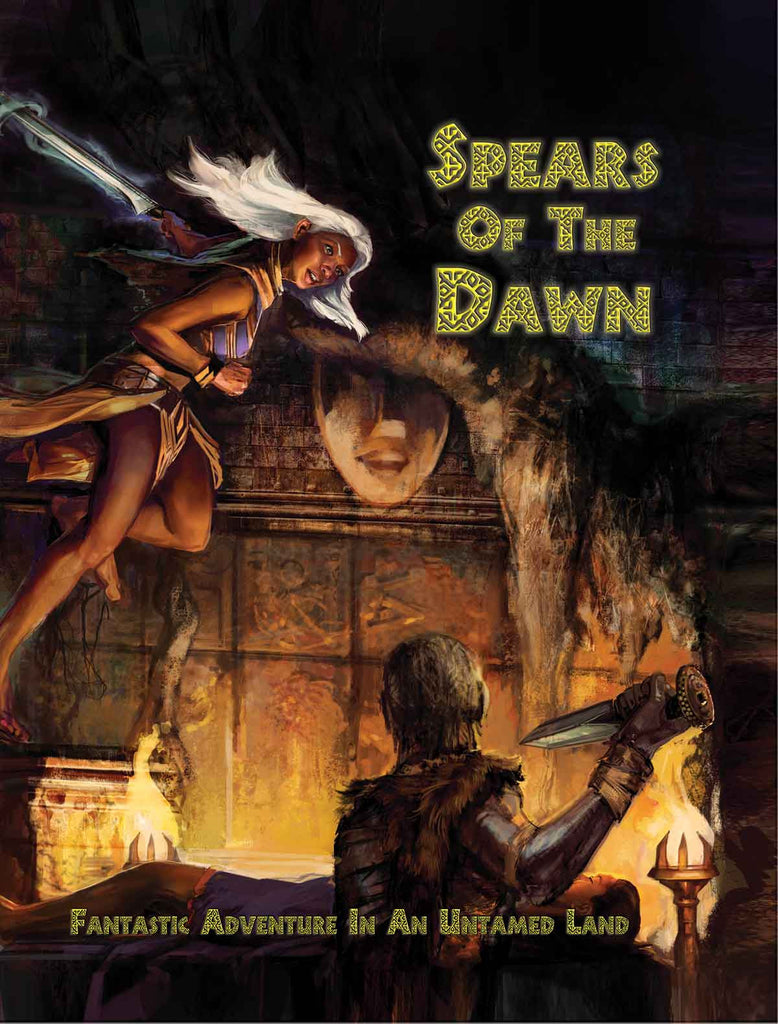 ---
Enter a World of Splendor and Blood

In the marketplace, flame-tongued griots recall the glories of dead heroes to set the people ablaze against their undying Eternal foes. In the palace, mighty warriors stride among pillars of carved ebony and bright jewels. Beneath the earth, daring adventurers plumb the mines of ancient kings, veins of gold shining in the flickering torchlight. And in the forest, masked ngangas utter the sorceries of their ancestors to break the bleak curses that witches have hurled upon their people.

In this complete game in a single volume, you'll find...

  A complete African-inspired campaign setting

  Old-school compatible classes for ngangas, griots, and marabouts

  New spells, magic items, and foes from African mythology

  Focused GM tools for building sandbox campaigns

  Tools for managing the background strife of restless kingdoms

  Resource tables, unkeyed maps, adventure creation tools, and more!
Spears of the Dawn is an African-inspired game built with the award-winning Stars Without Number system. Within this book you will find all the tools needed for adventuring in the wild and brooding Three Lands, where the bones of ancient Obas rest uneasy in cities of stone and blighted memory. Dare the tombs of the bitter Eternal and the courts of leopard-mantled kings to find the wealth of a new world!
This purchase provides the title as a DRM-free PDF file.
---
Share this Product
---
More from this collection