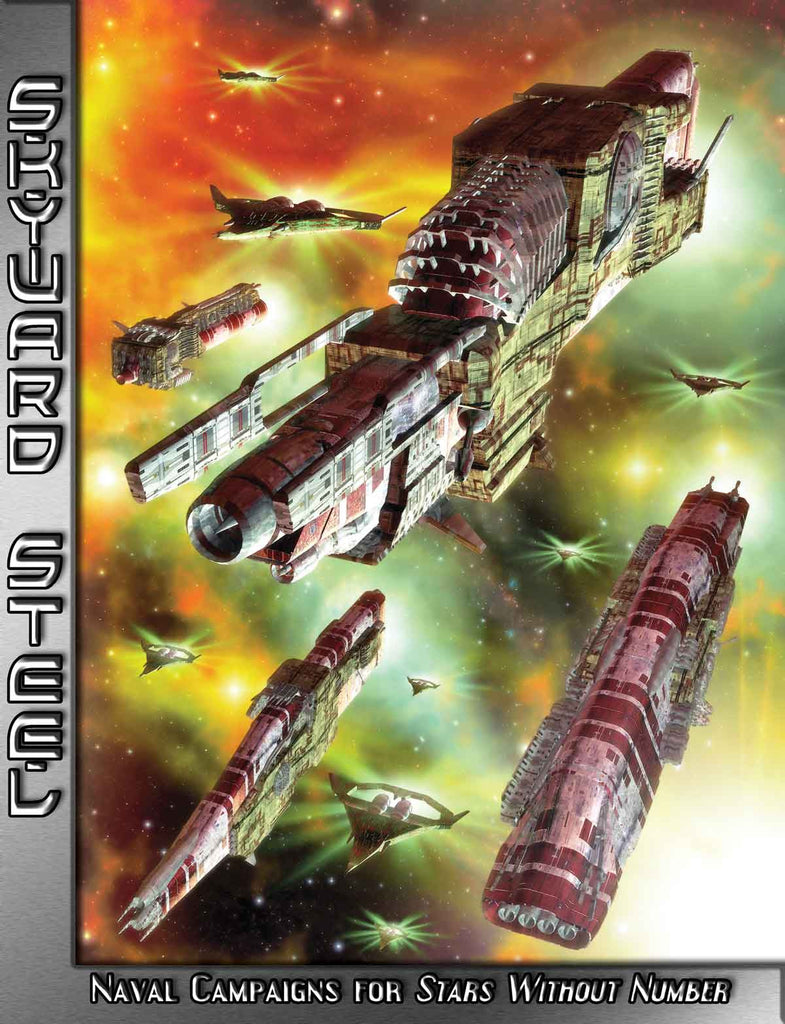 ---
Worlds Burn Beneath Your Guns
The captain standing on the bridge, wreathed in smoke and the cries of the dying. The chief engineer, struggling to force that last precious burst of power from the fusion plant. The Marine sergeant holding fast in the hatchway, death to the alien boarders. The cold-eyed admiral, choosing the slain by the turn of a word and her orders to her bait.
Join the Thousand Lights of the Stellar Navy in this supplement to the Stars Without Number roleplaying game. Take on the roles of the men and women of the Fleet, the sky-born protectors of the homeworld and its shield against the outer night. Whether a grizzled rating, dauntless officer, or elite Deep Black espionage operative, Skyward Steel offers both GMs and players the tools to embrace both the duties and the terrible freedom of these guardians among the stars.
Skyward Steel includes a host of useful tools and information for both GMs and players:
The history and roles of stellar navies in the

Stars Without Number

universe, including details on planetary invasions and military space stations.

Details on the ranks, pay, and organization of stellar navies.

Guidelines on running sandbox naval campaigns, and how to give the players freedom without compromising the military theme of the campaign.

Rules for recreating the climactic naval battles beloved of military sci-fi, with every PC involved in the desperate struggle to overcome the overwhelming foe.

Sixty adventure seeds, two for every world tag in the

Stars Without Number

core book.

Details on the workings of the Deep Black interstellar operations teams and their perilous covert ops missions.

New Background Packages for naval characters, and a selection of Training Packages available to every class.

New ship hulls, weapons, fittings, and personal equipment for naval and covert ops characters.

Details on building planetary navies for a world and determining naval budgets and operations costs.
This purchase provides the title as a DRM-free PDF file.
---
Share this Product
---
More from this collection