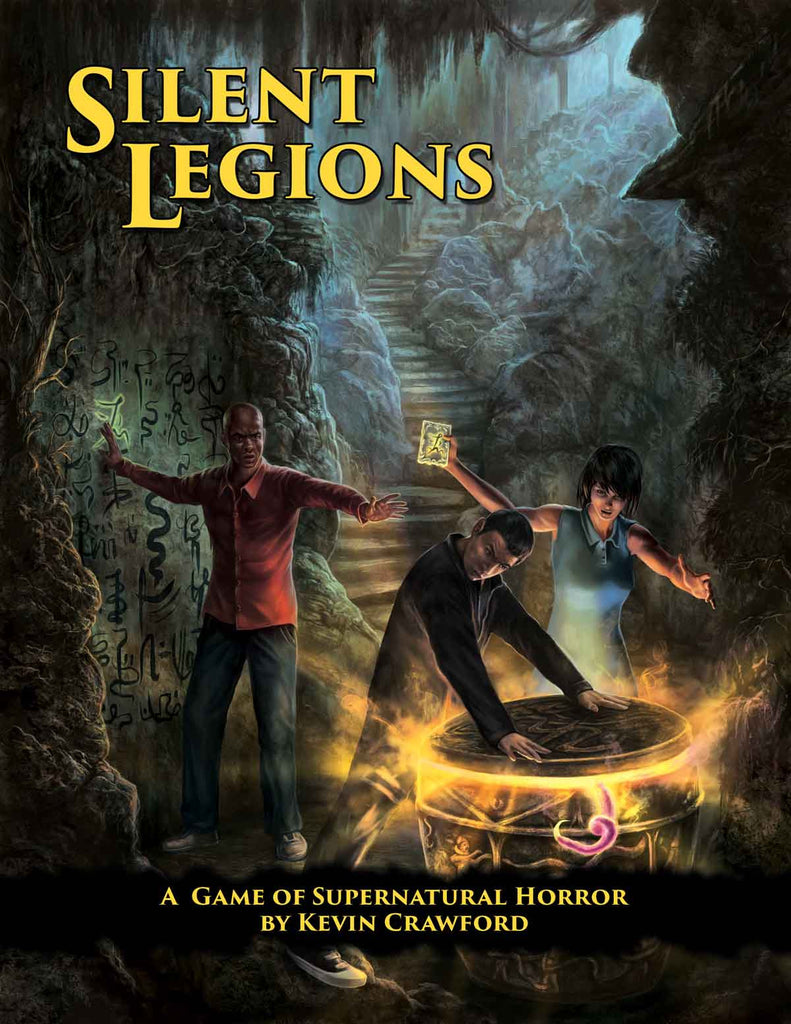 ---
The world is broken in hidden ways. The truth is concealed for the sake of mortal minds. The unendurable reality that boils behind the stars is veiled by the pleasant blindness that human sanity requires. Yet every comforting shroud must fall in time, and for these investigators, that time is now.
Silent Legions is a game of modern-day Lovecraftian horror, one carefully designed to support sandbox adventures by hard-bitten investigators and fearless hunters of the dark. Its clean, lightweight old-school rules are compatible with the Stars Without Number sci-fi game and give both GM and players a steady framework for plumbing the unspeakable secrets of the eldritch night. Now, after a successful Kickstarter with more than 1,100 backers, a Kickstarter completed a month early, this tome of dark secrets can be yours.
Silent Legions isn't just about traditional Yog-Sothothery. Silent Legions is a creation kit, a toolbox in the Sine Nomine style for creating your own Mythos, with all-new deities, alien entities, foul magics, accursed artifacts, unaussprechlichen kulten, and diabolical dream-worlds to bedevil your players. These tools are system-neutral, so even fans of other Lovecraftian gaming systems can scoop them up to add a splash of fresh horror to their more familiar tentacular abominations.
Not only that, but Silent Legions is built to help the GM create investigative adventures with minimal strain. Within these pages you'll find a modular set of templates and adventure guides that help you snap together an evening's intrepid investigation and fit it neatly into your campaign setting. Like the Mythos creation tools, these guides are system-neutral and can be exported for any occasion when you need something wicked to this way come.
So seize now upon this opportunity! Plunder this vault of forgotten lore. Grasp these dark tools of creation and wield their power to fashion your own nightmarish reality. Perhaps none dare name the things that await your animating will, but soon enough the world will know them well….
This purchase provides the title as a DRM-free PDF file.
---
Share this Product