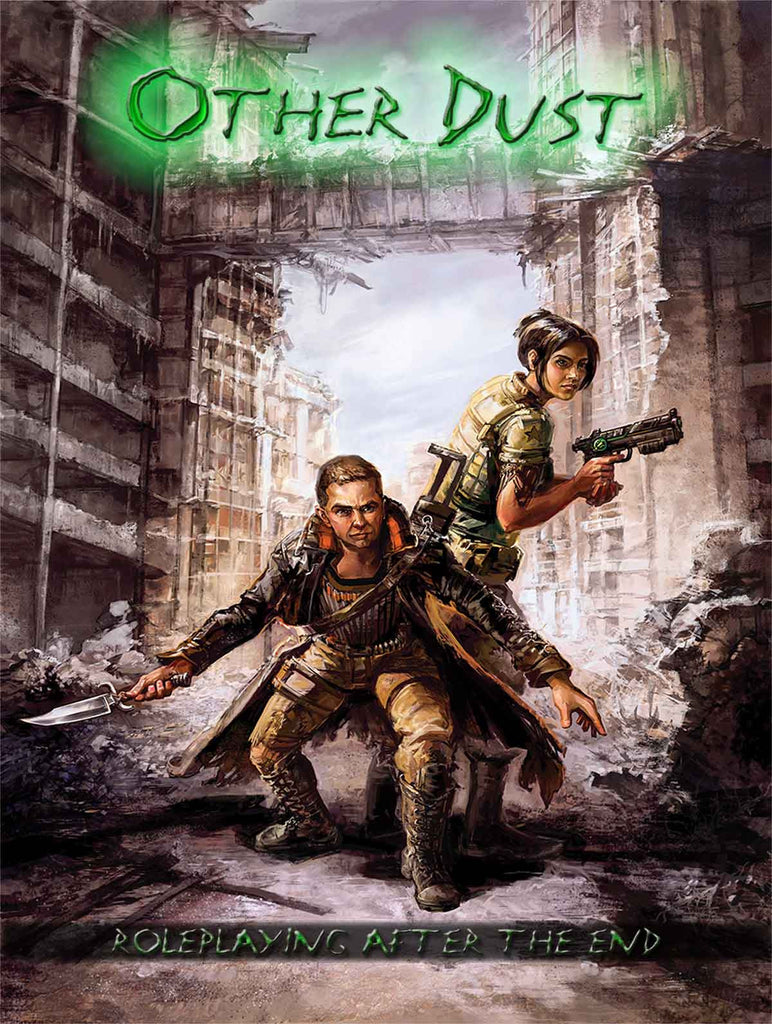 ---
The world is an open grave.
Green glass plains and trinitite pearls necklace the throats of torn cities. Prismatic jungles heave with nanite-infested life, thick with twisted bodies and fever-hot madness. The ancient towers of Old Terra are cast down into the mire and the stars above no longer send their ships of steel and burning light.

Humanity has been reduced to struggling enclaves and fugitive tribes. Left to scavenge the bones of their former glory, mankind yet fights the New Earth with steel, salvage, and a burning defiance. If the motherworld means to end her children, she's going to need a bigger apocalypse.

Other Dust is a stand-alone, fully-compatible companion game to the Stars Without Number sci-fi RPG. Within its pages savage mutants, crazed psychic overlords, runaway war machines and the relentless decay of a shattered world all conspire to snuff the last few embers of humanity. Yet heroes remain among the scattered survivors, and their courage and will to defy the coming night might yet save their people from a waiting doom. Use the tools this book provides to rebuild societies, reforge their ancient bonds, and bring a new dawn to a thousand points of night!
Inside, youll find...
Smooth old-school rules for rolling up and running the intrepid wasteland warriors and fierce avengers of a broken world. Fully compatible with Stars Without Number classes and play, too!
150+ pages of GM tools, techniques, and resources for building and running a sandbox post-apocalyptic campaign. If you liked it in Stars Without Number, you'll find it in here.
Rules for running groups and enclaves in the radioactive wasteland, with concrete tools to help players save or doom the hard-pressed people around them. Found your own or crush someone else's!
Easy-pull techniques and resources, system-neutral for quick transplantation into your own campaigns or favorite systems.
This purchase provides the title as a DRM-free PDF file.
---
Share this Product
---
More from this collection